Once Upon A Time…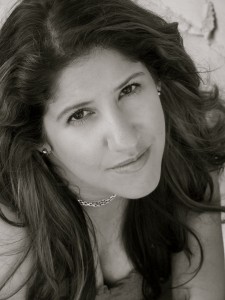 There was a filmmaker named Maylen Calienes. She wanted to bring her stories to life so she created MayCal Productions. The first part of the title "May" is taken from her first name Maylen. The second part of the title "Cal" is taken from her last name Calienes. In 2005 when her first short film "The Dance of Death" premiered at film festivals she came up with her production company name. Six short films later "MayCal Productions" became the household name for her projects.
Maylen wants to see more diversity in films and wants to be able to help other filmmakers/storytellers. With two of her short films being expanded into features she decided to also expand MayCal Productions and launch the beginning of something new in 2013. Maylen was quoted : "It's the end of the Mayan Calendar but the beginning of MayCal Productions. Live in the Moment and tell Great stories!"
About the CEO/Founder Maylen Calienes
Act 1:
Maylen Calienes is a writer, director, actor & producer. She was born in Cuba. She left Cuba as a young child with both her parents and arrived to the United States in a boat. Maylen was quoted: "I didn't come in a raft, I was upgraded to a boat. The boat ride from Cuba to the states was pretty rough. The Atlantic ocean is full of sharks so as you can see my parents trained me at an early age to be swimming with sharks! A good tool to have here in Hollywood."
Act 2:
She lived the first part of her life in Miami, FL. In Miami she was involved in the Arts. Maylen auditioned her Freshman year of high school for their exclusive Drama team.
Maylen was quoted: "It was one of the proudest moments in my life! I competed for a spot in the very selective drama team against other freshmen, sophomores, juniors & seniors. The day of the announcement, I was seated in my desk in Health class and a girl walks in holding just one long string with Drama faces on it. I knew it was the moment of truth. Being very shy as a young girl I didn't even know what pulled me to audition for the drama team. The name was announced and it was mine! The string holding the Drama faces was put around my neck and it was one of the proudest moments in my life! My whole being was filled with joy and that joy was kept all to myself since I was a shy girl. Now that I'm not shy anymore, with the help of drama class, I can share this story with all of you."
Maylen spent her four years in high school traveling and competing in Drama tournaments. She won many awards and even made it to the highest rank of nationals her Senior year of high school. Besides acting, her extra curricular activities included: dance, flamenco dance, painting, writing, music, modeling. At the age of 16 she started teaching modeling and dance and putting fashion shows together at three different schools, after school programs. She then started a theatre class in one of the schools and began writing and directing theatre.
She was the first place and overall place winner in one of Miami's top talent competitions in acting called the Young Talent Festival. She was recognized at that festival and was given a job at a performing arts academy where she would teach acting and dance and put theatre shows together writing, directing and choreographing the shows. While doing this job she attended college and performed in regional theatre.
Act 3:
After a while of living in Miami and being involved in theatre arts, Maylen decided it was time to move on and pursue her calling, films. She traveled to New York, Chicago and Los Angeles to see what city fit her best. After attending college summer classes at UCLA she found Los Angeles to be her fit.
Maylen was quoted: "I knew LA was where I wanted to live not only because of films and the history behind it but because my hair looked nice in LA! I spent many years in Miami making my hair look nice by straightening it and the moment I walked outside it would frizz. In LA my hair never frizzed, no wonder they film movies here! Everybody's hair looks nice! "
In Los Angeles she entered the world of movie making and was fascinated by it. Besides doing work in film and theatre in Los Angeles as an actress she started writing, directing and producing her own films.
Maylen was quoted: "Hollywood is the mecca of Cinema. Thousands of people move to Hollywood to pursue a career in the entertainment industry every year. It is a highly competitive industry and it is full of lots of talent. You truly have to love it and be passionate to pursue this industry. I'm a very passionate person! I may write and direct and produce and act in my own films but I love each job and find joy in every second of it. In the end, I call myself a storyteller. People ask me what I do…I'm a Storyteller. And now I have my own production company "MayCal Productions" so I can tell my stories and your stories forever and ever no end! I am a very lucky person because I've always followed my heart and I've always done what I love. I encourage all of you to follow your hearts as well!"
Maylen is very excited to build MayCal Productions, she is excited to continue to make movies and she is also very excited to give back to the community and spread some Love in the world.
Follow me on Twitter: @Maylen_Calienes
Find me on IMDB: IMDB