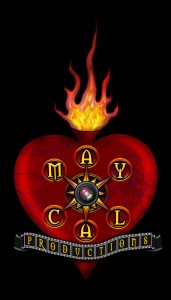 MayCal Productions is a movie production company which tells Unique stories, in any genre, using Heart & Humor. Living in a world filled with beautiful colors and cultures, our purpose is to push & promote diversity in film & television. We tell stories in every shape or form whether it's a short film, a documentary, or a narrative feature film. MayCal Productions produces works told by passionate storytellers with the intention of casting diversity both in front and behind the stage or cameras.
Currently we are producing two feature films that were first shot in the short film form. "The Three Bilinguals" – a movie about a Mexican, a Cuban, and a Puerto Rican who meet at the reading of their father's will and "Havana-Gila" a story about a Cuban girl who brings home to her Cuban, Catholic, Conservative family her Jewish boyfriend. There are other projects currently in development and we also accept submissions and/or requests.
MayCal Productions believes in producing good work in front of the cameras through film or theatre, and behind the cameras through giving back and producing charitable acts of kindness and love. Helping others Believe is what we encourage and Love is our purpose.